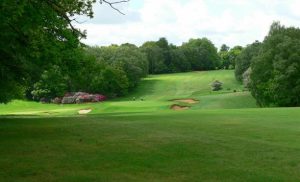 Wow!! What a great day was had by all.
The greens were fast, the fairways lush and the rough, well shall we just say challenging. To give you a feel only four of ten yellow balls were
returned.
Indeed the yellow ball competition was won on 29 points by Davids Smith, Bennett and Featherstone with guest Richard Draper.
Despite the rough there was some excellent scoring particularly by our guests with 44 points returned by Martin Petts and not surprisingly the team prize was duly won by Martin and Neil Harrison of ASHE construction. Well done them.
The Guest Winner was Chris Tweedie on 35 points (Richard Draper 36 and Martin Petts 44 having picked up other prizes).
The Finlinson Cup for EPIC Members was hotly contested with John Marsh (32 points) (cut 1) losing out on count-back to the EPIC Winner Graham Howe (cut 2).
Well done Graham.
All enjoyed the most excellent dinner provided by the Club. They really do treat us well at Ashridge and I'm sure we'll return for many years to come.
Please remember to put 11am for 12 noon tee off on 22nd September 2016 in your diary for the Sandy Lodge event. This is another great course.
Have a good summer holiday break and see you in September.